Team:

 Derek Tam, Aron Chen, Zhanna Krupinina, Anya Valueva, Tavan Sohi
Tools:

Keynote, Flinto, Sketch, Adobe Illustrator
Role:

Research, Ideation, Content, Visual Design, Prototyping
Duration:

4 weeks (Academic Case Study)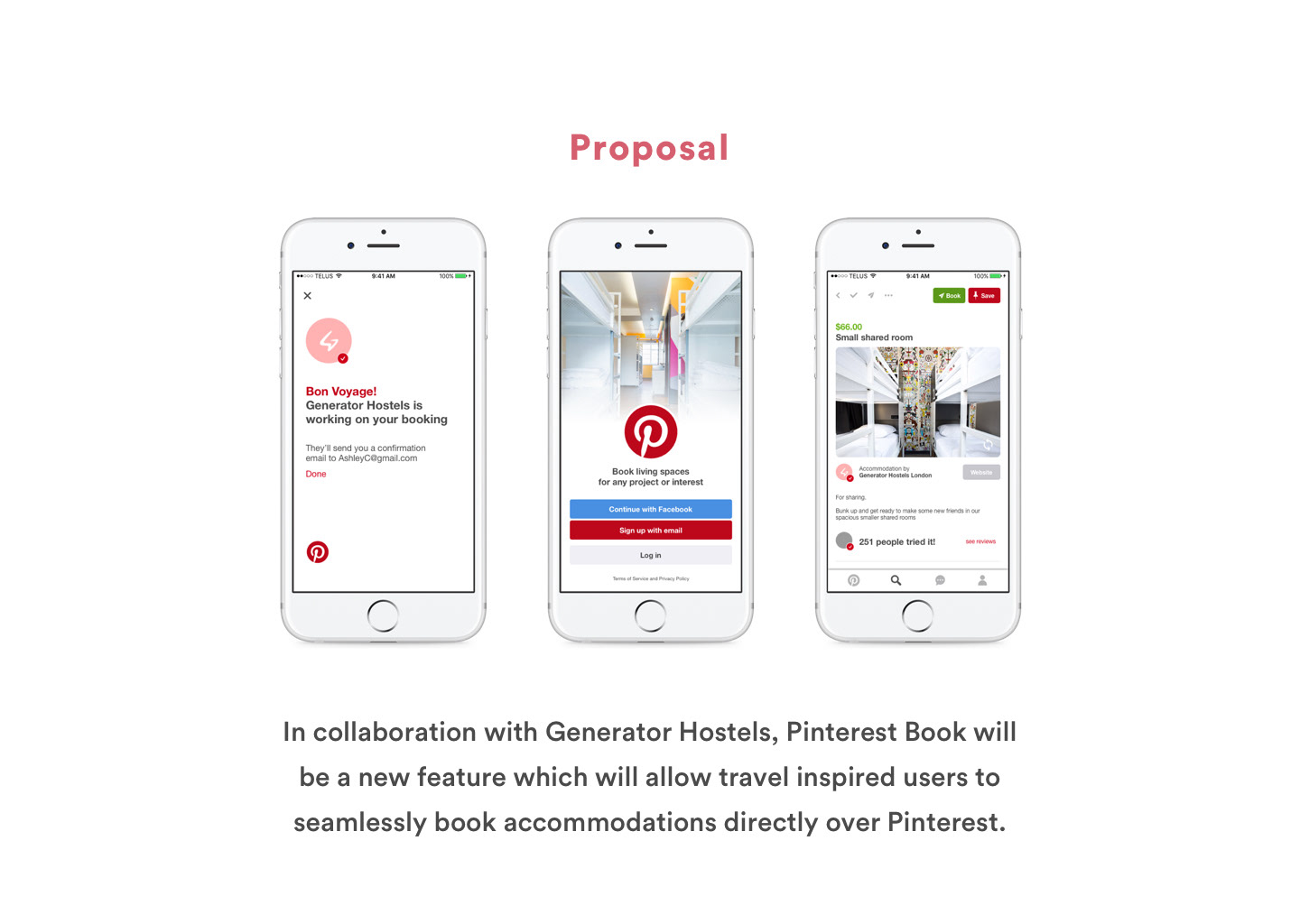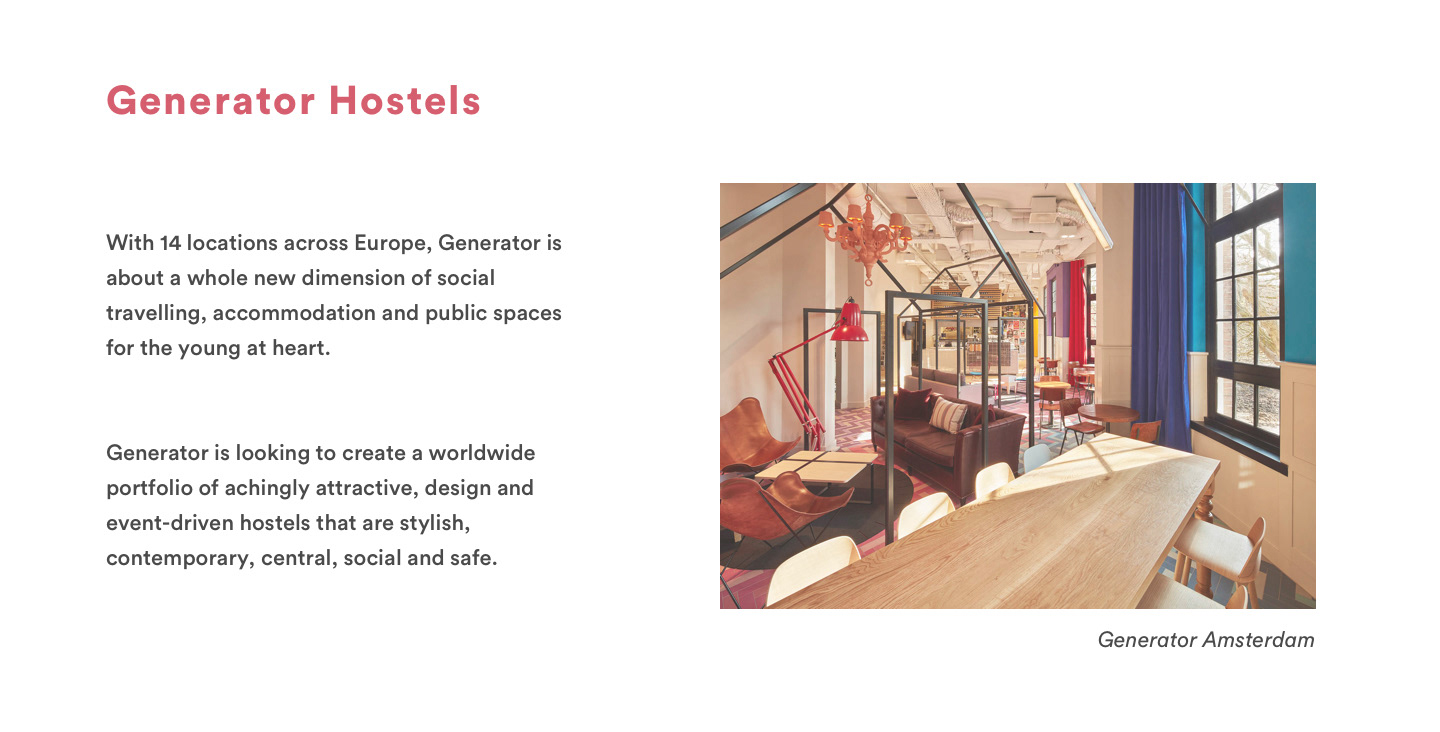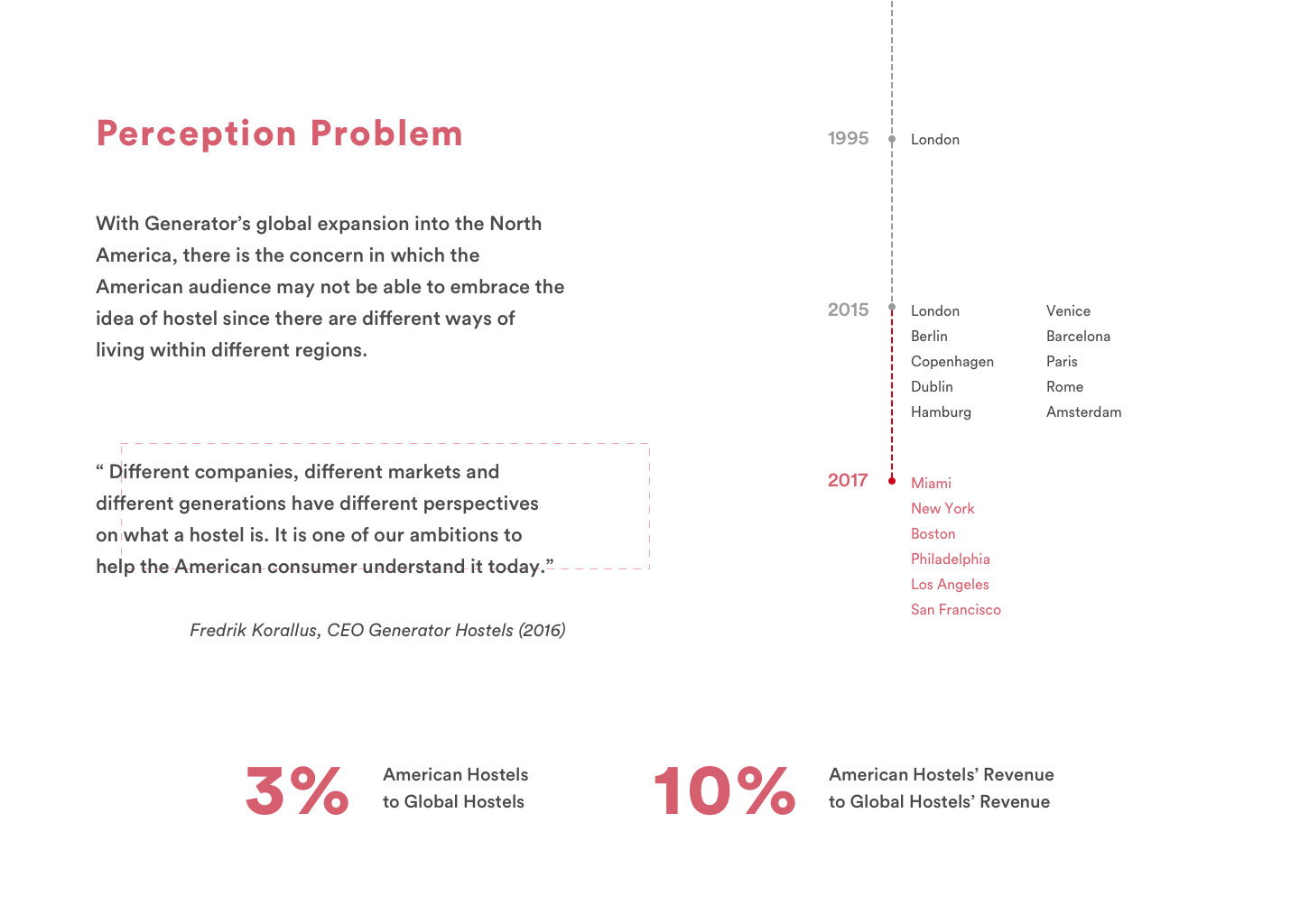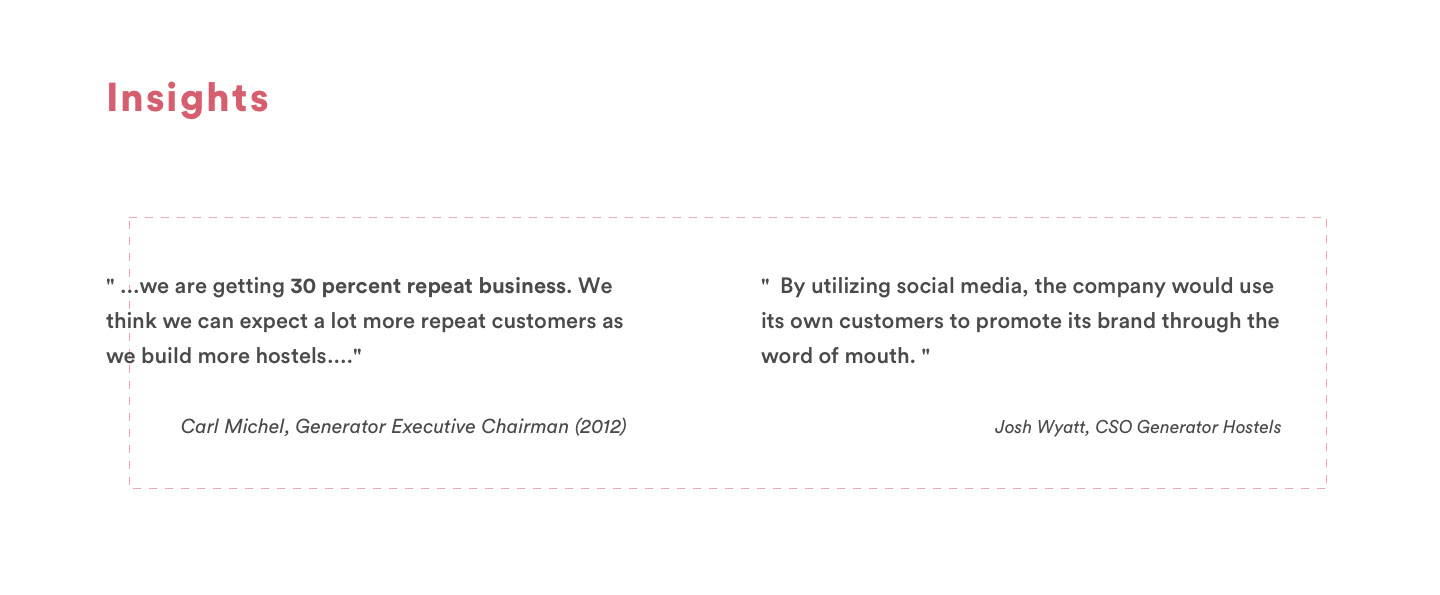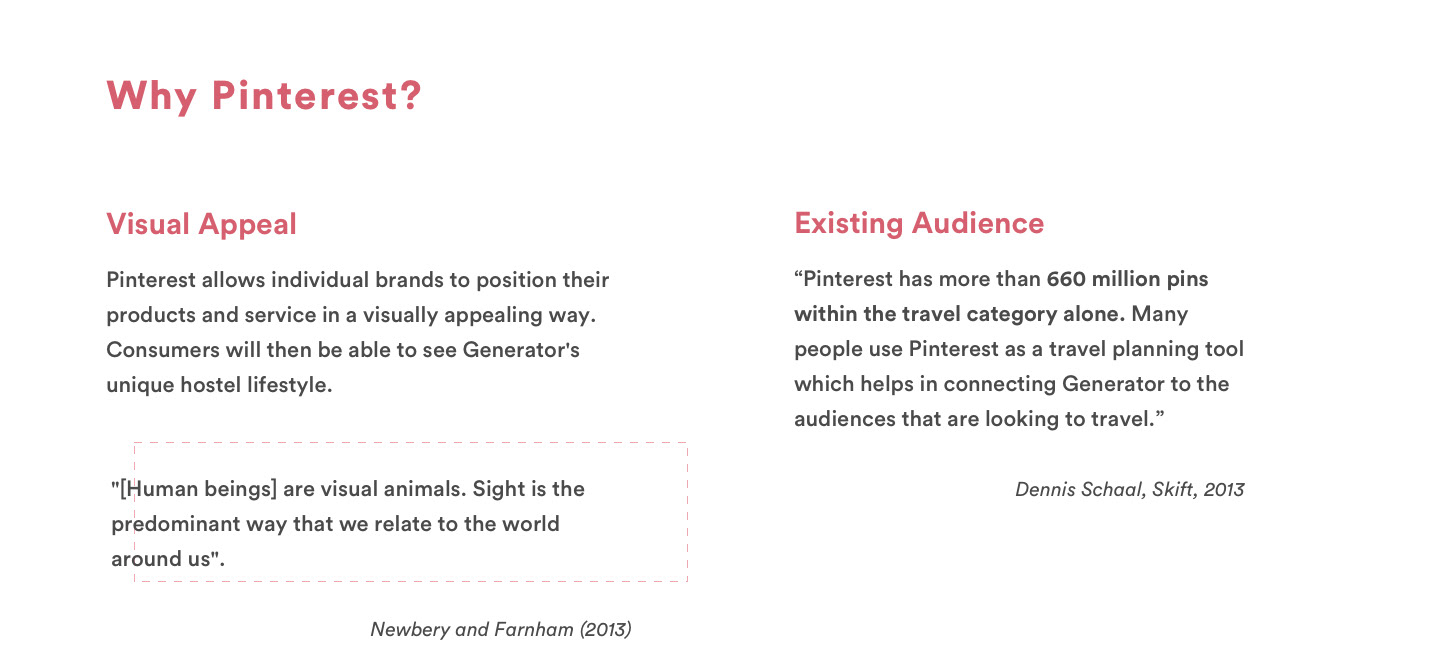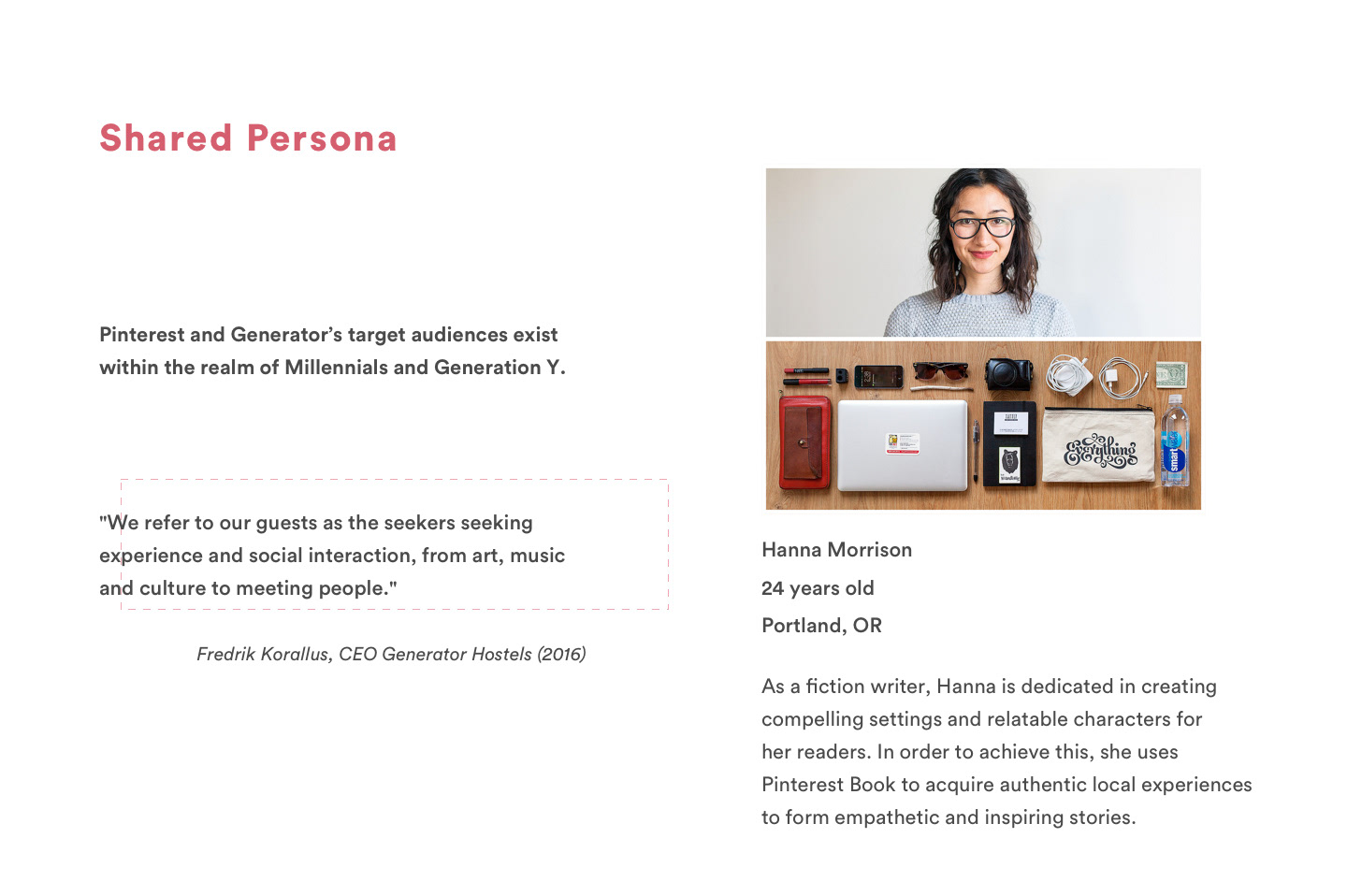 Travellers who are looking to travel based on what they have found by browsing Pinterest regularly can access the feature where they find buyable pins. These bookable pins are also able to be found without having to filter for them, but the filter makes it for users to see all the spaces that are available to them.
Frictions:
Pins that are actionable can easily be lost in the sheer amount of pins that exist on Pinterest. This feature could potentially be impossible to access as a result.
Positive Touchpoint:
By organizing a results filter tab, we can sort out what the general action the user wants to take and surface the types of pins that users want to look at.
Each room page by Generator features the information of the space, amenities that are included, and reviews by people who have previously booked it. 
Frictions:
When looking at spaces and rooms to make a booking, people generally only have a few static images to help them decide. This is an issue that not only exists on Pinterest, but an issue that exists across all mobile booking services.
Positive Touchpoint:
By providing a 360 view feature, we improve customers' ability to access information, which also raises their engagement with what the brand has to offer.
Streamlined Booking Process
Frictions:
Booking requires more information that needs to be shown to users, while brands need more screen real-estate to sell their spaces. In order to achieve this, I designed a brand new interface that would live alongside the current one in which is used by buyable pins.
Positive Touchpoint:
The interface for this stage had to be logically structured with the most important information up front, and the option to edit the details of accommodations secondary. Listing the things that people would use most often is accessible, and interactions should only require a minimum amount of steps. Following this, we are able to create a simple up-front layout that didn't overwhelm users with information.